Music Stands, Stand Lights, and Instrument Stands
Music stands are important for practice or performance to keep the sheet music or lesson book at the proper height while playing.
Stand lights are helpful at illuminating sheet music or lesson books on music stands when the lighting is less than ideal (such as in the pit orchestra in a musical, or playing outdoors at nighttime).
Instrument stands are specifically designed to hold your instrument at the ready while you are not playing. Some instrument stands hold a couple of instruments so that a musician can transition between playing one instrument and then the other without the risk of it falling off of their lap or off of a music stand and damaging the instrument.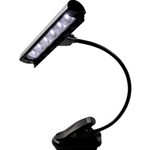 Mighty Bright LED Orchestra Light
Mighty Bright XtraFlex2® LED Stand Light